Originally Published by thedesignnest.com Written by Milena Abrosimova
What the future holds in graphic design trends 2022? Let's get acquainted with the most distinguished ones.
Standing on the borderline of a new year in graphic design got writer, Milena Abrosimova thinking about the red-hot flow of creative movements, that are going to prevail in the next 365 days. Briefly, the urge for experiments mood persists catapulted into 2022 and got visualized in more curious shapes.
Having absorbed all the year's ups & downs, creative breakthroughs, social spirits, and environmental events, trends in graphic design are all ready to become a beacon for your artistic spirits that needs to keep burning. She's taken the responsibility for harvesting the showiest ones, shaping the nearest future of the graphic design world. You'll be excited to discover a sparkling comeback of retro (roaring Art Deco and wild '90s), raging typographic experiments, visionary glass textures, bold 3D mashups, and other fortuitous graphic design trends 2022.
More Inclusive Solutions
Unexpected Collabs & Teaming Up
Glass & Crystal Textures
Good Old '90s
Art Deco Revival
Web UX Finally Fixed
2D + 3D
Anti-design & brutalism
Experimental Typography
Pandemic-Driven Themes
Creative Doodling in Branding
Y2K — 2000s Nostalgia
Extensive Serif Fonts Use
More Inclusive Solutions
Starting with the stock illustrations and ending with the adaptive website settings, concern for the inclusive nature of a developed product, fortunately, becomes a matter of high priority for new graphic design trends. The major positive tendency, directed at engaging people irrespective of their personal traits, keeps thriving. It's undoubtedly a good thing for society in general and a certain adventurous challenge for creative designers to introduce unique solutions in this or that scope of application.
The sufficient level of contrast, readability, accessibility to the voice-over systems, and the rest of the inclusive practices — these web standards are meant to be established. Still, the next year is high time to start! Dealing with the ready-made product should represent a coherent experience, where the users are welcomingly guided through the process without any exceptions. Luckily, more and more resources are starting to prioritize the inclusive approach while crafting the sources for "brand-audience" interaction, which bears a myriad of exciting socially-oriented graphic & web design solutions.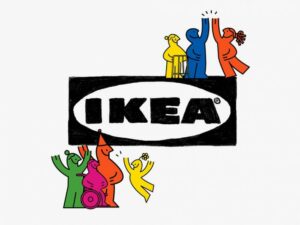 2. Unexpected Collabs and Teaming Up
Being in the spotlight is vitally essential for the brands, especially in the hype-fueled epoch, when the battle for the audience's attention attracts innovative means of creating the info precedent. And it's for the best! Brainstorming ideas has led to forming new creative allies, fulfilling everybody's bravest dreams. So far, these are fashion brands, who make the first step towards collaborations, but their results cannot pass unnoticed for the other companies, inspiring them to take a leap of faith into the unknown partnership. There's already plenty of viral influencer x brand collabs where the visual cases look dazzling. Still, projects like these are deprived of a specific unexpected wow effect compared to the clash of brands.
Apple x McDonald's, Nike x NYX, or Netflix x Oreo — what collaborations will we see in 2022? The time is left for anticipation and spinning the wheel of random brand mashup in our minds, fantasizing about how the idea should be designed. After all, marketing moves like this nourish a renovated perception of the branding design while contributing to its possible updates and adaptive strategies.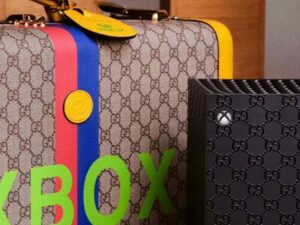 3. Glass & Crystal Textures
It's no surprise that the holographic texture trends have been on point lately. Glass is making a comeback in tons of fresh, reinvented looks & shapes: this trend has been seen everywhere and promises to stay for quite a while in the graphic design projects of the upcoming year. The transparent texture is more than convenient for all kinds of visualization, providing vast space for implementing various ideas: from simple glass overlays to 3D models, having conserved (or better be said "frozen") some branding elements or concept art pieces inside the imitated icicles.
As for the crystal holographic glow, coming hand-in-hand with glassmorphism, there can be dozens of iterations: the extraterrestrial pulsating, shining crystals look exceptionally splendid in the form of added accents for the finished products while being also used as a focal point for delivering the projects from scratch. Let there be a dispersion in the infinite dance of lighting and color refraction!
Amid the modern graphic design trends, this one carves out the look of web and graphic design, like it did with Windows 11 and has been an accepted part of the iOS design language. Glass will be encountered more often, which means eventually it'll get more diverse.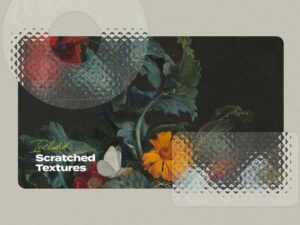 4. Good Old '90s
The era of sweet nostalgia found its place in present realities, giving people the desired sense of comfort by perceiving something the mind is already well-familiar with. Having played around enough with the '80s vibes, in the next year, all creative minds are going to be about the following decade in the world's pop culture history — the '90s. Somewhere in the pile of old TV shows and movie reboots, resurrected baguette bags and low-rise jeans, the new graphic design trends in 2022 will have a distinct voice. All in all, there are so many outstanding trademarks of that time, deserving to be brought up again; therefore, retro is granted a second life. And notably, this life promises to be splendid!
Metallic chains, flamboyant colors, grainy textures, simple shapes, pixelated art, and bubblegum feeling — the elements, which are are awfully familiar to some of us. As for a later generation, these artifacts are perceived as something conceptually new, motivating to take the precious items from the upper shelf, blow the dust off and remake them into attention-grabbing materials. Not all the gimmicks were laid on the table, so 2022 will supply us with new manifests of love to the distant '90s.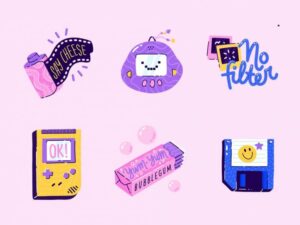 5. Art Deco Revival
Regarding the overall graphic design trends for vintage and evocation of tested, visual techniques, the timing couldn't be more fortuitous for adding Art Deco smart symmetrical geometry to the modern graphic design discourse. The presence of metallic shades and chrome shine is not strictly necessary but can totally nail the visuals, enhancing the impression. Fair to say, the trend for glass and reflections, which has already been mentioned before, can easily be blended with Art Deco style, coming as another characteristic trait of the brought-up movement.
Where this luxurious, decorative, lined, and layered design signature can be implemented aside from masterly-drawn illustrations? The trend is eager to get along with web design first, where the geometric shapes' and symmetrical elements' placement reduces the visual stress, building the informative, to-the-point carcass of the elaborated design solution. Logos and branding, on the whole, would appreciate the same approach greatly if the task requires carrying out minimalistic yet strictly lush aesthetics.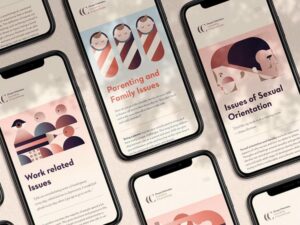 6. Web UX Finally Fixed
Let's switch to the technical side for a change and get a little grumpy for a reason. There are so many broken interfaces, counter-intuitive choices, crooked forms and dark patterns these days, ruining the subtlety of discovering a displayed project. It's pretty sad to observe the impressive and potentially break-through design projects, whose execution in the actual terms of appliance is poorly-arranged, drowning all the hard work in unprofessionalism. Phew, I've said it.
The moment has come to for the trends in graphic design to welcome fixed web UI, carrying about not only what is displayed but how it all operates. No more underestimated web development tasks, giving a priority to the external outlook, rather than mechanics of every single detail. Design world should not be focused strictly on beauty, obviously. If that's not the triumph of the upcoming year in graphic design, I don't know what is.
Hand-picked cases:
User Onboarding
Better Products, Better Growth
UX Case Studies
7. 2D + 3D
The increasing might and fame of Blender, 3D support for drawing on voluminous objects in the latest Procreate versions, professional and at the same time accessible software like Spline — all of it can't mean anything else but an imminent, spreading impact of 3D designing, that's destined to become bigger and bigger. Exploring the new dimensions will be made explicitly by letting the 2D and 3D worlds merge, complementing each other greatly.
Even adding the single 3D object into the hand-drawn, flat setting causes the resonating feeling, completely changing the attitude to the presented concept. The tactics that might troubleshoot the sparse of a genuine zest in a project think about it. Besides, there's a huge flow of freshly-published portfolio projects by graphic designers, fortunately discovered this curious combo, come take a peek sometime. Hope to see tons of arranged multi-dimensional plots, where an eye can hold on to so many daring 3D and 2D crossovers!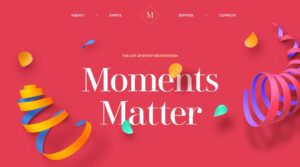 8. Anti-design & brutalism
The easiest way to get noticed is to stop playing by the rules and be driven by pulsing passion. That's what this graphic design trend is about! Shake up the conventional ideas about how things should look by adding asymmetrical elements to UI, go for a brave color palette, and inventive combinations. It's commonplace that forsaking a habit yields in generating brand new visions, so why not set your imagination to roam freely? Don't forget the brutalism, closely linked to anti-design, adored by graphic designers.
We should expect to see ostentatious and overdone graphic design solutions with screaming fonts in the graphic design trends 2022. Mostly bordering on websites and apps, the habit of creating ugly for the sake of ugly is generously fostered by the dead-beat visuals, so convenient and user-oriented but dull. Don't hold back any out-of-the-box brainchild — without the rebels like this, there would be no progress whatsoever.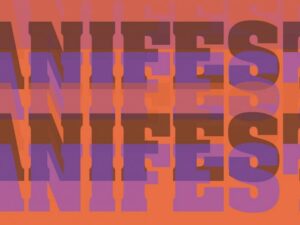 9. Experimental Typography
The tendency to carry out the enthralling and amusing typographic compositions runs ahead of the other current graphic design trends. Bending, resizing, smashing letters are not strictly about the transferred meaning they carry but the visual language mostly, standing above everything else. Serving as a tool for both minimalistic and lush designs, experimental typography is a broad term, encompassing hundreds of expressions with a myriad of fonts.
Here we once again deal with wrecking the entrenched canonic views on graphic design, liberating designers to embark on the next successful typographic penning. Combine the formidable letters with 3D, glass, or Art Deco and typographic solutions from the '90s to achieve the maximum trendiness, as there's nothing to stop you from conquering new artistic peaks!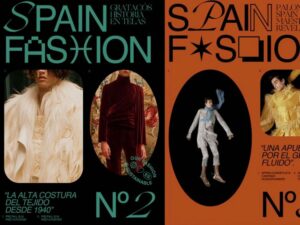 10. Pandemic-Driven Themes
Another year has passed in a constant struggle with one of the most massive pandemic outbreaks in the world's history. The central leitmotif remains untouched, fostering creators to unveil graphic designs, touching upon social restrictions, adaptations, transferring the message of responsible behavior in public. So much has changed during these past couple of years, which couldn't go without leaving a distinct trace in the culture.
If the last year's focus was set on designers agitating people to stay at home, this time, it will be about an array of recovery measures, mask-wearing, establishing new habits after facing the disease, and coping with the lockdown anxieties. Besides, on a psychological level, the projects in the upcoming year will be tailored with a vivid red string, representing long home captivity and loneliness. As a result, the burst of content languished and got ripe for such a long time. It'll require an extended lifespan for this trend in graphic design to fade away, so we're watching closely how it evolves year by year.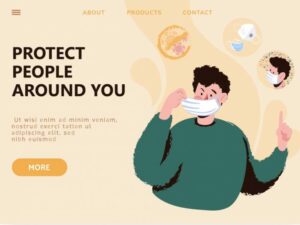 11. Creative Doodling in Branding
Doodling, abstract drawing, and sketching — nothing of these is new to designers and illustrators. Moreover, they were edgy years ago, and it's quite strange to see them in the list of modern graphic design trends. However, creative doodling returns not just as a relaxed paper wandering but a full-fledged element of branding concepts. The key to its revival is the increased interest in a designer's personal approach to the project, and there's hardly anything more personal than fast sketches, characters and shapes drawn in a unique style.
Doodles are brought back by designers to help create a bond between the brand/company/designer and the consumer, who's keen to get attached to human, personal things. They are incredibly flexible, which is an important feature to help creators adapt doodles to various projects. The freeform drawing goes from humans to abstract geometry, and the variety of forms gives freedom of fantasy and allows animating them with ease. Creative doodling is particularly warmly-welcome by a younger audience, who missed the previous wave of doodles' popularity and now see them as a fresh wave with plenty of room for self-expression.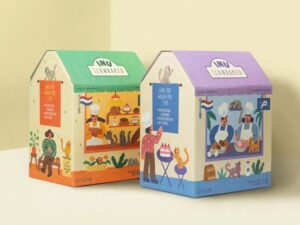 12. Y2K — 2000s Nostalgia
Every year we mention the retromania, and new graphic design trends often return to the community's nostalgia about the past decades. We've already mentioned the good old '90s — however, 2022 will also be home for the 2000s aesthetic.
It was the time where the technology received its initial boost, and it felt like things would be like that forever: oversimplified interfaces, low poly CGI, neon colors, and holographic textures borrowed from CDs. Now, as these retro attributes sound like a distant memory, designers have their eyes on the visual of Y2K. Y2K throws us back from polished minimalism and clean design to a funky merge of pop, Kawai, neon, and tech. Such projects often bring everything at once, and it's hard to imagine Y2K style joining branding or interface design. So currently, we can enjoy the 2000s in the indie projects and illustrations and be ready to catch the wave when the trend becomes more massive.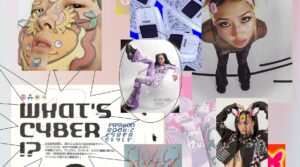 13. Extensive Serif Fonts Use
Little additional lines on every character separate serif fonts from sans serif typefaces, and that's a significant small detail, that ignites serif fonts extravaganza. Serif is some sort of a leverage graphic designers use to address the typeface stylistics, creating it a bit wavy, curled, square, or flowing from one character into the other one. Historically, serif fonts were breathing with elegance, classic approach to lettering and an immense high-end aesthetics. And again, there's a vintage tilt appearing once again in current graphic design trends.
The steady look and visual structure are the things to appreciate serif fonts for. They receive a special preference of designers, working on landing pages or presentation graphics for design marketplaces. Thankfully, the well-established traditional look of serif fonts was transformed into the all-mighty one, which allows being weird, futuristic, romantic or blunt.