Originally published by Finances Online
Graphic design is about more than just brand identity since it delivers benefits that transcend visual appearances. Good graphics empower brands to educate, inform, or persuade audiences through imagery, color, typography, and form. However, the graphic design world is a constantly evolving landscape exemplified by rapidly changing design styles. This means to reap any meaningful benefit, you must continually flex and align your skills with the latest graphic design trends.
In this article, we'll discuss all the fresh design trends you should keep an eye on. From the most popular compositions and layouts to the emerging technologies and top graphic design software that professionals use, we'll provide you with all the information you need. The goal is to help you embrace new design ideas and instill visual consistency across every aspect of your business.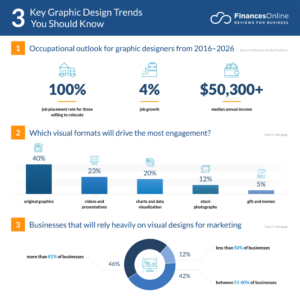 Graphic Design: What's the deal?
As a small business owner, every responsibility falls squarely on your shoulders. With the number of tasks you need to oversee, it's easy for certain tasks like graphic design to fall off your radar as of primary concern—unless you started as a graphic designer yourself. If graphic design has become the least of your worries, then your brand image—as well as the survival of your business—is at stake.
This is because gone are the days when graphic design was just "icing on the cake." Today, graphic design plays a crucial role in communicating who you are, what you do, and your unique appeal. Almost every aspect of your business requires a dash of graphic design to flourish. From logo, website, and brochure to branding, package, and signage, graphic design impacts your business in many ways.
Picture this: your website only has a few seconds to make a good impression. Even worse, it takes a visitor just 50 microseconds to examine and create a perception about the visual appeal of your website. This means, in the absence of compelling visual graphics, your business stands no chance in the cutthroat competition. Furthermore, the type of graphics you use reflects your visual identity, and consumers often equate them to your company's values.
Mind the eyes of the viewers: your customers
Overall, graphic design affects the consumers' ability to use your product or website. When used effectively, visual graphics improve brand recognition and boost marketing. Above all, good graphics create a professional appearance that enhances trust, goodwill, and loyalty.
As a result, businesses gain higher visibility, and it becomes easy to convince consumers about the quality of services and products. It's no surprise then that 40% of digital marketers ranked visual graphics as the best performing element of content marketing.
You can read our compilation of graphic design statistics to gain an in-depth understanding of the industry.