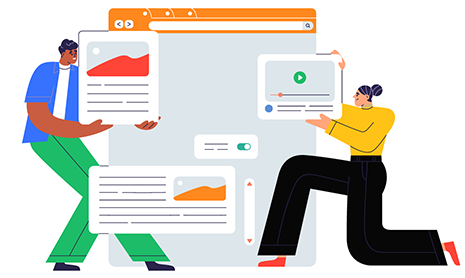 Given how quickly the content and creative landscapes are evolving, there is no silver-bullet strategy for audience data collection. There are wildly different approaches to audience listening. When determining the best method for your audience, you'll want to consider the following: 
Your overall goals

How frequently you plan to access and apply audience feedback

 

What platforms your audience uses

 
Regardless of the method you choose, we do recommend using a combination of different tools. Doing so will help you cover your implicit and explicit data needs while getting more in-depth insight into what your audience really wants.   
Let's take a look at the top methods for audience data collection and applying that feedback to your brand.  
#

1

:

Market Research
Every industry and function have a list of trusted sources and research firms to uncover benchmark trends. If you're in retail, for example, there are a multitude of research organizations, analyst firms and even tech companies releasing their own proprietary research.  
You can use these sources to benchmark your industry or audience and get a baseline understanding of your target audience, industry trends, and umbrella themes that may be guiding your decisions. 
#2:

Proprietary Surveys
In addition to market research, your team also has the option to run its own survey. Many brands do this to gut-check their decisions and look for new ways to improve the brand experience.  
You can use a tool like Typeform to create a survey and promote it across email, social media, and even on your website. We recommend keeping these surveys short and sweet and opening the opportunity for your customers to share more details in a follow-up interview.  
Also, provide an incentive if you have the budget! Even a $5 Amazon or Starbucks gift card can show your audience that you appreciate their time and attention. 
#3: Consumer Panels and Interviews 
If you don't have the time or budget to launch a large-scale survey strategy, start small with consumer panels, communities, and one-to-one interviews.  
Digital-first brands like Glossier cultivated a loyal fanbase by creating exclusive communities in tools like Slack. This was a quick and efficient way for them to bring their best customers together, inspire collaboration and use them as a sounding board for brand feedback — and even new product ideas.  
Aggregating your best consumers into an exclusive group can pay off for your brand in the long run; you can cultivate these relationships, drive loyalty and even boost bottom-line results. 
Get tips for accelerating creative innovation for your team.
#4: Social Polls
Whether you use Twitter, LinkedIn, Instagram or TikTok, social media is an incredible sounding board for your creative team — and your entire business. Through LinkedIn, you can run polls or through Instagram you can do side-by-side comparisons of proofs and ask people to share their feedback.  
Depending on what type of feedback you're seeking there's a way you can use social media to get an immediate response. Sure, the sample size may not be as large as a survey, but the fast and honest feedback of your community will present big benefits for your team. After all, the faster you can get your input, the faster you can put it into action! 
#5: A/B Testing
In the mood to get your hands dirty? Want to collaborate more extensively with your colleagues in marketing, content and even product? This is where A/B testing comes into play.  
If you want to see value from these exercises, these tests must be focused and controlled; it's critical to align with your team on your objectives, the elements you want to test, and that each "group" has an equal number of recipients. With each test, you'll be able to understand which color combinations, design elements, photo choices, and even messaging points resonate most. 
#6: Audience Analysis Tools
This space is evolving rapidly and encompasses a variety of areas of the marketing "mix." There are social listening tools like HootSuite that allows you to look at social performance over time and understand which content and creative resonates most with the audience.  
There also are SEO tools like SEMrush that help you dig into search behaviors, keywords and phrases used, and even the questions that people ask on search engines. But if you want to get a broader spectrum of insights that you can share with your entire marketing team, consider tools like BuzzSumo and SparkToro, which allow you to dig deeper into your target audience, key influencers and top-trending content. 
Audience Data Collection Helps Brands Get More Targeted
No matter the method used, collecting feedback is an excellent way to find out if your brand and its messaging, products, content and creative resonate with your target audience. While you can certainly rely on a singular method, it's advisable to gather feedback using more than one of the methods above. Doing so will give you a wider set of data to work with.  
Which data collection method(s) work best for your brand? Share with us in the comments below!