Where is the Creative Communication Heading? The Metaverse, 70s Psychedelic Art, Y2K Aesthetics, and More Trends for 2022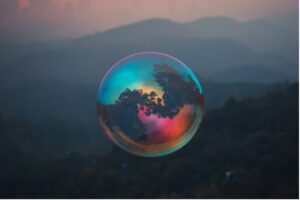 We are standing on the edge of the future and the past. While 2021 surprised us with technological breakthroughs, 2022 prepares new experiences, more innovation, and excitement. The future holds the metaverse and AI-generated music, while the past keeps coming back with Y2K aesthetics and 70s psychedelic art.
Depositphotos, a stock content marketplace with over 200 million files, shares their 2022 Creative Trends forecast that will come in handy for brands and content creators. It covers key themes, ideas, and aesthetics that will push creative communication forward in 2022, and reveals insightful data and expert opinions on the topic. Keep on reading to find out more!
8 creative trends that will help you stand out in 2022
1. The Metaverse
Virtual worlds fascinate us. The game industry, along with global tech giants like Microsoft and Meta, urge us to spend a significant amount of time online. In 2022, the metaverse, in which people can both educate and entertain themselves, will blur the line between real and virtual worlds. But how will this affect visual communication?
In the near future, digital environments will appear even more realistic thanks to AR and VR technologies. Brands will design 3D avatars, downloadable virtual goods, and other features to make virtual reality interactive and to better connect with audiences. Well-thought-out 3D elements and animated graphics will help create a hyper-real alternative to our world. In addition, it will be augmented with ambient music and immersive sound effects to make audiences feel even more present.
Search statistics from the Depositphotos library, compared to the previous year:
"Immersive reality" increased by 275%
"3D futuristic city" up by 200%
"Virtual worlds" grew by 143%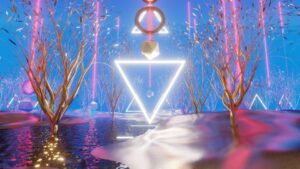 2. Psychedelic Art
Psychedelic 70s art will make a powerful comeback next year. Vivid, eye-catching, and complex visuals will gain new popularity, thanks to the accessibility of graphic software that encourages bold experiments.
Holographic and grainy backgrounds, complex abstractions, a rich combination of bright or contrasting colors, and kaleidoscopic structures can be used to boost moods and help audiences escape a monotonous reality.
Search statistics from the Depositphotos library, compared to the previous year:
"Vivid colors" up by 182%

"70s" increased by 46%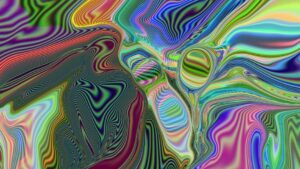 3. AI-Generated Music
Advances in AI have skyrocketed in recent years, becoming the backbone of most online music services. Major music providers have simplified consumer decision-making by integrating AI with streaming platforms, and providing recommendations based on search history, mood, or taste.
AI will have a significant impact on music production as well. It will push creativity forward by reimagining existing music and adding uniqueness to newly created soundtracks. AI-generated music will help brands and creators provide their audiences with hyper-personalized experiences, creating a new level of immersion. Thus, background tracks on websites or apps will be tailored to user preferences or moods. At the same time, creative projects, campaigns, and advertisements will contain custom soundtracks, resulting in a more engaging reality.
Search statistics from the Depositphotos library, compared to the previous year:
"Thematic" increased by 259%
"Ambient" grew by 75%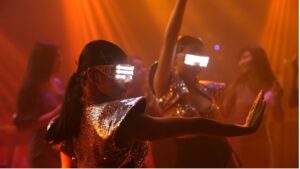 4. Y2K Aesthetics
Recent events have put our lives on hold. A lack of new experiences and positive emotion has people thinking about how things were back in the day. Nostalgia can take audiences to a more carefree and happy time in their lives. Millennials and Gen Z, the largest generations today, are drawn to Y2K aesthetics as it is reminiscent of childhood and adolescence.
This universal nostalgia will inspire brands and content creators alike to use pastel color palettes with yellow, green, pink, and blue. Design and photography projects with retrofuturistic vibes, shiny features, or film-like post-production will appear extremely relatable to customers in 2022.
Search statistics from the Depositphotos library, compared to the previous year:
"Pastel pink background" grew by 205%
"Positive emotions" increased by 133%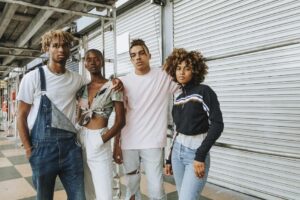 5. Science, Not Fiction
People were fascinated by science fiction in the past; they fantasized about space travel and flying cars. As technology advances, Elon Musk's revolutionary cars, implantable brain-machine interfaces, and space travel now seem mundane. Nevertheless, innovative and futuristic imagery sparks the global creative community's inspiration, curiosity, and excitement.
Next year, creatives will employ experimental graphics, alien shapes and forms, and illustrations of space explorers. Dark shades and metallic textures will dominate designs, adding extra dimension to creative projects.
Search statistics from the Depositphotos library, compared to the previous year:
● "Space traveler" increased by 214%
● "Extraterrestrial life" up by 165%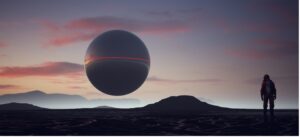 6. Acts of Self-Love
For a few years now, mental health has been in the spotlight. Thus, the culmination of the self-love movement will come in 2022. Brands will strive to become more supportive and caring of their audience through a different, more supportive tone of voice, as well as authentic visuals.
Photographs with simpler compositions, minimalist color solutions, and realistic settings that show the actual context of products, services, or events will be in demand among audiences. Speaking of brands, these visuals will allow businesses to gain trust and assist in achieving a greater goal – building a healthier and happier society.
Search statistics from the Depositphotos library, compared to the previous year:
● "Candid faces" grew by 383%
● "Self-acceptance" up by 122%
● "Authenticity" increased by 40%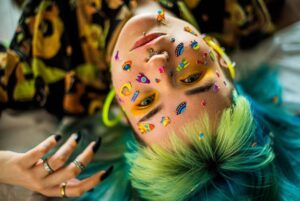 7. The Art of Scrollytelling
Telling stories online has been a go-to tool for many content marketing specialists. However, as cognitive load increases and attention spans decrease, it becomes harder to engage with the audiences. This is why brands and content creators are compelled to invent new dynamic formats that combine video, animation, and music.
Next year, asymmetrical layouts, versatile elements, parallax scrolling, oversized typography, and 3D motion graphics will become key elements in website design. To make projects even more captivating and immersive, creatives will leverage website hero videos, enticing music tracks, and sound effects. However, the essential requirements for a successful scrollytelling project are a quick loading speed, readable typography, and a unique story readers can relate to.
Search statistics from the Depositphotos library, compared to the previous year:
● "Website design and development" increased by 383%
● "Asymmetrical design" up by 325%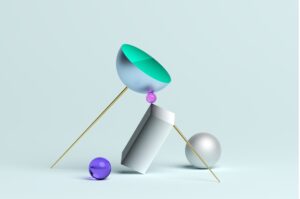 8. Immersive Everything
The world is changing fast, and so are we. Modern technology allows brands to create more personalized content and sophisticated media formats. The latter has changed the way we interact with content. As a result, progressive businesses choose immersive experiences to stand out, increase engagement, and retain customer loyalty.
Interactive 3D ads and shoppable AR lenses simplify the online purchasing process and encourage customers to buy things. Brands that closely interact with, test, or customize products will succeed and become industry leaders. In advertising, techniques such as forced perspective, 3D animation, and motion graphics will aid in the creation of 3D illusions that captivate today's customers.
Search statistics from the Depositphotos library, compared to the previous year:
● "AR logo" grew by 742%
● "Immersive technologies" increased by 125%