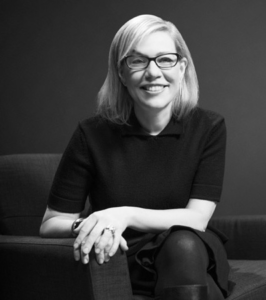 Ashley C. Ford changed my life. But in order to understand why, it helps to know some backstory.
I read the New York Times bestselling Hunger by writer, professor, and cultural critic Roxane Gay when it first came out and fell in love with her while reading it. After about a year of planning and plotting, I tried to get her attention by inviting her to be on my podcast, Design Matters. She said yes and asked me to coordinate the details with her publicist at Harper Collins. I was elated. Elated!
I sent several emails (well, four) to the publicist, but alas, she never replied. The fifth email did get a response, but it was from a mailer daemon letting me know that the publicist was no longer employed at Harper Collins. I forwarded the entire exchange back to Roxane with the sincere hope she might feel bad that the publicist had ignored me, and that she might consider scheduling something directly. But that didn't happen. At that point she was done with her book tour and was exhausted. She said no. I was defeated. Defeated!
A year later I participated in a spoken-word event at the School of Visual Arts Theater in New York City organized by artist and writer Timothy Goodman. One of the other performers at the event was the writer Ashley C. Ford. I didn't know her, but I knew of her: she was witty and charismatic, she was an incredible public speaker and I saw her rock the house at a recent AIGA conference. She was also the host of some really cool podcasts: The HBO companion podcast Lovecraft Country Radio and MasterCard's Fortune Favors The Bold, as well as the video interview series PROFILE by BuzzFeed News, and Brooklyn-based news & culture TV show, 112BK.
After the event, several of the performers came back to my apartment for wine and pizza and Ashley mentioned something about her mentor Roxane. Suddenly I considered the possibility that Ashley was talking about that Roxane, and I immediately asked if she meant Roxane Gay. She nodded enthusiastically.
At that moment something mysterious took over my body and I blurted out
OMG I HAVE SUCH A CRUSH ON HER. Ashley immediately raised an eyebrow, and in a curious, velvety voice responded: "Really." It was more a statement than a question and it fueled enough bravado for me to ask her if she could put in a good word for me. Mercifully, she did and after four more months of correspondence Roxane and I went on our first date. That was four years ago, and despite living on two different coasts, we've been together ever since and recently got married.
As for Ashley, since that fateful meeting, she also married her long-time love, the poet and fiction writer Kelly Stacy and they now live in Indianapolis, Indiana with their chocolate lab Astro Renegade Ford-Stacy. She wrote the NYTimes bestselling book Somebody's Daughter and has been named among Forbes Magazine's 30 Under 30 in Media, Brooklyn Magazine's Brooklyn 100, Time Out New York's New Yorkers of The Year, and Variety's New Power of New York.
At this year's HOW Design Live Conference, for the first time ever, Roxane Gay and Ashley C. Ford will be sharing a stage together for a candid one-on-one conversation. These long-time friends will dish to their heart's delight with topics sure to include Ashley's love of Kenny Loggins, why Roxane is obsessed with reality television, Ashley's superb match-making skills, and how they both move through the world with grace and optimism.
I don't want you to miss this conversation between Ashley and Roxane – or any of the other motivating, inspiring and educational sessions at HOW Design Live. Join me in-person in Boston in a few short weeks to experience all that HOW Design Live has to offer!
REIGSTER NOW
– Debbie