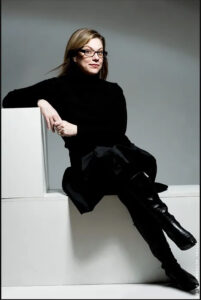 If you've ever been utterly wowed by a keynote at HOW Design Live, there's a good chance you have Debbie Millman to thank for it.
The Design Matters host and longtime educator estimates she has been helping to program the main stage for about 10 years now. Given the wide range of creative minds she brings to the show, we were curious: What is she most looking for when selecting speakers?
"How much the HOW audience will appreciate them being there—how much the audience will be inspired," she says. "Also, their entrancement factor—will people come away feeling like they've been witness to something truly special?"
As many a past attendee would attest, Millman excels at fostering those very moments. Some of her personal favorite keynotes include Brené Brown. DeeDee Gordon and Malcolm Gladwell. Elizabeth Gilbert. Dan Pink. Simon Sinek. Seymour Chwast. The list goes on.
"We've had some great, great speakers," she says.
This year's event—set for June 5–7—is shaping up to be one of HOW's most exciting. Here, Millman offers a preview of the amazing lineup set to hit the main stage in less than two months. Register today to secure our Advanced rates, and get ready to be a part of it all in Nashville!
Celebrating 50 Years of Pentagram
This year, the most famous design firm on the planet turns 50—and Millman wanted to celebrate in a major way.
"It's such a big deal," she says, "50 years of a design firm is incredible."
On June 6, Millman will host a blockbuster panel that includes Michael Bierut, Michael Gericke, Emily Oberman, Eddie Opara and Paula Scher.
Her goal? To shine a light on unwritten, candid stories from the firm and its main players, and reveal to the audience how the storied firm has evolved over five decades.
Jessica Hische
Millman has been trying to get Hische back to the HOW stage for years—and the stars have finally aligned.
"She is the coolest girl in the world," she says. "Jessica is just an incredible polymath."
To that end, Millman says she'd love to hear Hische discuss the titles she created for the forthcoming film adaptation of Are You There God? It's Me, Margaret, in addition to her letterpress work, her branding output, and the retail store she is currently building.
"I'm hoping she'll share about all the different facets of her life—although, frankly, I would be very entertained if she just wanted to talk about her house renovation and show us pictures," she adds with a laugh
Dori Tunstall
This February, Tunstall—dean of design at Ontario College of Art & Design University—released a critical text: Decolonizing Design: A Cultural Justice Guidebook. As MIT Press details, the book is "at once enlightening, inspiring and practical, interweaving [Tunstall's] lived experiences with extensive research to show what decolonizing design means, how it heals, and how to practice it in our institutions today."
Millman notes that she will be hosting Tunstall soon on the PRINT magazine Book Club—and she can't wait for her appearance at HOW.
"I'm really, really looking forward to hearing her talk about the book," she says, adding that she's also hoping to do a Q&A with Tunstall following the session to continue exploring the subject with the audience.
Stefan Sagmeister
For Sagmeister, all it took was an email letting him know that the incredible Pentagram crew was going to be dropping by—and he said sure, "count me in," Millman recalls.
Millman and Sagmeister go a long way back, and she isn't sure what topic he'll speak to this year, but given his recent gallery openings and fashion line, she's hoping he'll discuss his self-generated projects and art.
For a designer that continually surprises and delights, there's little doubt that won't be the case once again.
Rick Griffith
Millman met Griffith, the founder of MATTER, following a conference in 2015—and was immediately struck by his honesty, empathy and wisdom.
As for how she would describe him at large: "Provocative. Brilliant. Polymathic. Surprising."
All traits that will be on full display when he takes the stage to present "It's Just Another Unified Theory of Everything," revealing "how deep exploration and experimentation make for paths to new thinking and opportunities in design."
Ultimately, looking ahead to June, Millman brims with an excitement that is utterly contagious.
"I feel like we have an incredibly good lineup this year," she says.
Explore it all right here—and then get your cowboy boots on, because Nashville will be here before you know it.
Get More of Debbie Millman
For more from Debbie Millman, follow her on social: Instagram, Twitter, LinkedIn and Facebook.