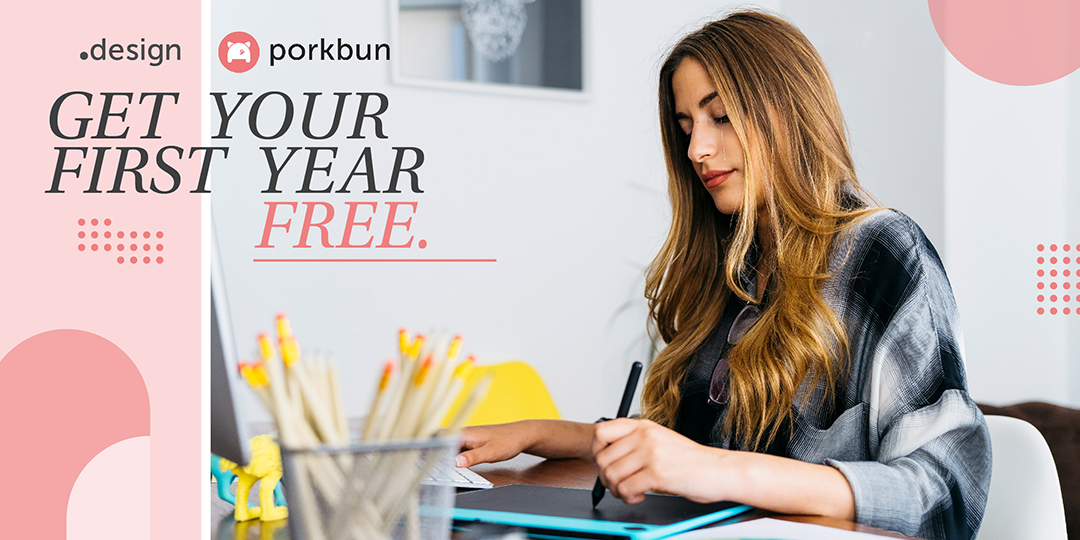 Want to elevate your branding and improve your SEO at the same time?
For designers of all kinds and experience levels, a .design domain name says exactly who you are and what you do, and it's far more memorable than a predictable .com domain. A .design domain is the perfect choice for your online portfolio, helping you stand out to clients, employers, and algorithms too. 
Porkbun.com is now offering HOW Design readers FREE first-year registrations for .design domain names, so take advantage of this limited-time offer to give your online brand presence a big boost. 
Here's Why .design is Better
From graphic design and illustration, to UX/UI, to interior design, designers of all kinds are using the .design domain extension to create elegant, representative, and search-engine-optimized websites. 
Unlike .com and other legacy domain extensions, .design is relatively new, so there are far more short, catchy, and keyword-rich domain names available. With the category-defining "design" keyword already included in your domain name, you can improve your search engine ranking (and get your online portfolio in front of a larger audience) by using your domain name to focus on your particular design specialty.
Designers understand branding and the advantages of a clear and concise domain like those available via .design. It reads well on business cards and in print, it is eye-catching, and it is especially effective when paired with a custom email address. With .design there is the opportunity to clearly tell the world who you are (brand name!) and what you do (design!) right in your URL, and look good while doing it.
In addition to thousands of freelance designers and agencies, many global brands have enthusiastically embraced .design domains to enhance their content marketing and hiring strategies. Sites like spotify.design, dropbox.design, amazon.design, and adobe.design deliver a compelling sneak peek into the design practices of these industry-leading companies. 
Here's What You Get With Your Domain
By registering your .design domain at Porkbun, you'll get one year of registration for free! When it's time to renew, Porkbun typically has the most affordable renewal prices for any top-level domain, and .design is no exception. 
In addition to your free domain registration, Porkbun also includes free WHOIS Privacy to reduce spam, a free SSL certificate, a free web hosting trial, and a free email hosting trial. Your professionalism will get a big boost when you upgrade from that free email account to an email address with your very own .design domain name! 
Most importantly of all, your .design domain will help you create a rock-solid foundation for your personal brand. Since finding a short and easy-to-remember name is critical for both human and algorithmic appeal, building your brand and website on .design will set you up for growth and success. 
Porkbun.com is now offering one year of a free .design domain name along with free WHOIS Privacy, free SSL Certificate, a free web hosting trial, and a free email hosting trial. Take advantage of this special offer now.