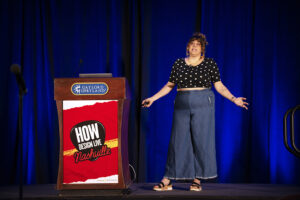 Speakers at design conferences have been rallying creatives for years with a singular message: Designers should have a seat at the coveted leadership table. Well, today, the good news is that a lot of designers finally do have a seat at that proverbial table. So, what's the key to keeping it?
In her 2023 HOW Design Live session "Take a Seat," Kim Vandrilla—Clorox's head of brand and creative, DTC—broke down just that.
Here are a few lessons gleaned from her talk.
Speak the Universal Languages
First off, the reason why you should be at that leadership table is clear: "Our value extends beyond pixels, it extends beyond words—we are the experts in creative," Vandrilla said. "So we should be in a room in that capacity."
The key is to know the best way to communicate at the table. And that language is to filter everything from general conversations to pitches to feedback sessions through the needs of the consumer. Doing so will convey to your colleagues that you're on the same page as they are—and over time, that builds trust with partners and stakeholders.
The second key: Ground all of your design decisions in the objectives of the project. If a conversation starts to go off the rails or a conflicting opinion arises, justify your creative output in the context of those objectives … which keeps things, well, objective and less personal. Nine times out of 10, that will lead to common understanding, Vandrilla said.
And finally, defer to data whenever possible. Data settles arguments—and using it shows that your output is built on strong foundations. Someone questioning your font choice will have a hard time arguing with sound market data and your past experiences.
Be a Co-Creator
Co-create your briefs for better results. Vandrilla's briefing process involves getting input from everyone—designers, copywriters, engineers, and so on.
"Getting the creatives in the room to review the brief while it's in progress is the first step at getting to a brief faster that's going to be more effective," she said.
Moreover, she added that feedback is a love language: Don't just tell someone their idea sucks. Start from the objectives and frame your feedback within it. Understand that everyone is going to take feedback differently, and guide the conversation by asking questions back to stakeholders. Think of it as a ping-pong conversation, versus declaring that you're there to give feedback, and then walking away after you do. And remember, feedback goes both ways.
"Ask questions, show them that you're interested in where their feedback is coming from, and don't take it so personally. Get to the root of what their comment is."
Expand Outwardly
This one begins not in the boardroom, but within you. Vandrilla said to stop thinking of your career as a "path.
"I propose that your career is actually this set of concentric circles that are expanding outward over time, like a tree. It starts with you at the center, and that does not go away. It's always there—your interests, what drives you, what gets you excited."
The next ring is your basic craft—your schooling, foundational roots, and so on. The following ring might be collaboration, followed by business impact, management, adjacent specialties, and influence. Breaking things down this way spotlights your significant experience, but also offers a means to set goals or manifest—what's not on that tree that you'd like to be?
"Ultimately, it all comes back to the fact that you are all of these things," she concluded. "And when you step into a room, you should see yourself that way."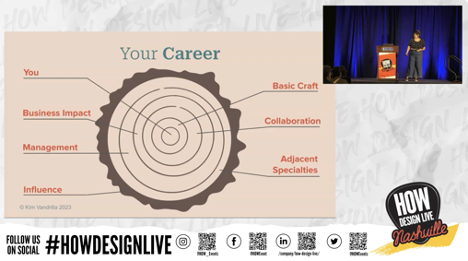 For much more, tune into the full session right here!
For more on Kim Vandrilla click here.