In 2006, at just 25, Roanne Adams left her design gig at Wolff Olins and decided to set out on her own.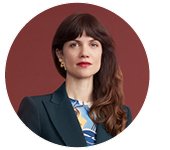 Now, most people would say maybe you should sleep on this. Some would probably even tell you that you're crazy. But Roanne Adams is not most people. While she enjoyed working with big brands like Target and PricewaterhouseCoopers, she knew that she wanted to work directly with clients and bring a more holistic approach to branding. 
So, Roanne started to freelance, and she started her own branding agency and creative studio RoAndCo. Since then, the accolades and awards have poured in. She was named one of New York's outstanding up-and-coming designers by T: The New York Times Style Magazine and was recognized by Young Guns 9 with an award back in 2011.  
But beyond the acclaim and fanfare from the design community, her agency has gotten at the heart of brands with the stories they want to tell, and she's worked with the likes of Google, Nike, Smashbox, and Modcloth. 
They continue to dazzle the creative industry with some of their most recent projects, like Kin, a non-alcoholic beverage making waves among the newly burgeoning sober scene, and Fellow, a beauty brand that revels in its non-binary branding. 
And how has her studio done it? By continuing to lean in and work with forward-thinking brands, the ones who aren't afraid to wear their values and influence on their sleeve. 
That's why you won't want to miss Roanne at this year's HOW Design Live in Boston where she'll talk aboutRoAndCo.'s work and the way they have innovated and electrified the projects they created for the world's most recognized brands, transforming how not only her studio can do good, but her clients too. Because if you can create a change at the corporate level or alter the way we perceive a brand, then you can also win over consumers. 
At the heart of every brand, there must be purpose, and that's not just the packaging you see on the shelf. It's a story that reverberates through every part of a brand, and it must be done with thoughtfulness and sincerity. 
Building meaningful and responsible brands might seem difficult in a chaotic world, but designers have the ability to lead with integrity when their work hits the marketplace. You can change the world with design. Join us at HOW, and speakers like Roanne Adams will show you.