Hallmark & Starbucks Talent Exchange  |  By Cece Merkle, Lauren Hale, and Colin Walsh
Dena Blevins, VP of Global Promotions and Brands at Starbucks, joined us for our Creative Leadership Symposium in 2017. This engagement opened a doorway for us to start talking about our creative capabilities and communities, and we quickly realized the opportunity to learn from one another. We decided to initiate a Talent Exchange, with the outcome of immersing in best practices, as well as providing inspiration and creative connections. We hosted Starbucks the week of February 19th, and the following week, Lauren Hale, Kristi Heeney-Janiak, Cece Merkle, and Colin Walsh visited Starbucks.
We coordinated a full (yet fun!) agenda for Starbuck's three days at Hallmark to showcase our creative capabilities. Our goals were to immerse them in our creative culture by inviting them to walk through our halls, peek behind the scenes, and experience our creative energy. We explored how we collaboratively design, write, illustrate, letter, play and think, and then we asked Starbucks to join in and create alongside us! We had them meet a range of Hallmarkers within our community to hear their stories about collaboration and what inspires our work each day. Each morning they were greeted by different faces and each afternoon we reserved for creative exploration—which included a Trends sketch blitz, inspiration from the archives, and a lettering workshop. It turned out that hosting the Starbucks Creatives was as invigorating for us as it was for them—we listened and created alongside our new friends and found ourselves just as enthusiastic to share as they were to learn! Thank you to all of you that participated!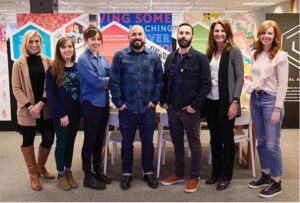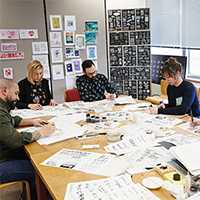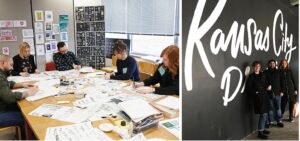 Our Starbucks friends were excited for us to come see and experience their daily creative spaces—before leaving KC they made sure to warn us not to drink our morning coffee until we made it into headquarters, they wanted to do the honors once we got there!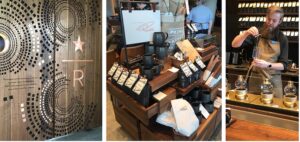 Our visit started with the opening of their new Flagship Reserve store, an upscale coffee bar offering their rarest coffees from their most knowledgeable baristas. Among the morning hustle we overheard the excitement as Starbucks employees, or "partners" as they call themselves, were exchanging comments about the opening—this had been long awaited—and we arrived just in time to drink the fresh Reserve coffee, taste the Princi baked goods and admire all the details and interior design among Starbucks partners and locals. We were fully caffeinated and ready to see more!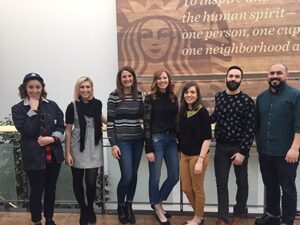 The friendly faces of our recent visitors welcomed us to the main creative floor of the headquarters and we quickly felt the Starbucks Creative Studio's passion—as we heard stories shared generously and openly from their creative teams. They walked us through their working spaces and showed us the different ways they kick-off and collaborate, they told us about their favorite projects and about recent campaigns and company initiatives that they were excited to be a part of.
After meeting several creative "partners" and learning how to taste coffee more passionately, we were guided through their Brand Walk and their Art Program. The connection between our brands and creative approaches was clear—they "nuture the human spirit" with coffee, and the creative community within their walls challenges themselves to create with humanity at the core. Their Art Program commissions original pieces from local artists that they then display in all their stores across the world. The artwork relates to Starbucks themes, like exotic coffee farms and interpretations of their Siren mascot. They shared their Art Program mission that stated they "had the most walls for artwork in the world" and they wanted that art to speak to the consumer about their passion for coffee. They explained that they seek out emerging artists and use their brand to celebrate these smaller voices—creating a fluidity between fine art pieces and commercial artwork in their retail spaces. Each piece of art had us pulled in closer to the brand and a new respect for the artistry that is part of their store experience.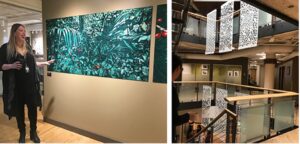 In the afternoons we were greeted with tiny coffee tasting cups and food pairings while meeting with other creatives representing their team & work. One of the teams even briefed us on a design project to concept for their small batch Reserve packaging cards—they read the coffee description, shared details about the coffee's origin and asked us to show our ideas the next day! (We were a little intimidated, but excited to play.) We spent more one-on-one time with the Starbucks artists we had been paired with—we listened closely as they shared their work, asked questions to seek out learnings and exchanged our insights. It was validating to realize our creative approaches behind the scenes, weren't that different but the "beans" they shared would no doubt send us home thinking differently.

From seeing the first Starbucks in Seattle's Pike Place Market, to walking their "Brand Walk", and hearing about their latest acquisition of a sustainable coffee bean farm in Costa Rica, we were engaging with their brand through a new lens, without boundaries & territories in the way, gaining a richer understanding and appreciation for their creative approaches and our own! Some of our key takeaways were:
• Coffee Community Starts Within: From kicking off meetings with coffee tastings to inspiring employees with coffee-centric artwork around the building, they've built a community within HQ that celebrates and connects coffee passion and creativity through their product creation.
• Embrace Change: Internally they acknowledge outside perceptions, which inspires them to change through the creative choices they make each day.
• Scrappiness: They are held accountable for moving quickly with concepts and ideas, which typically show up in a form of a black and white sketch.
• Elevate engagement: They are pushed to let their internal excitement radiate out through their baristas and store experience, their founder Howard Schultz says: "If you can get the baristas excited about it, it will not fail."
• Origins matter: Leadership "partners" are invited to experience the art of growing coffee through their "Origin" farms, as well as, encouraged to work on-site in stores to stay close to the heart and humanity of their product.
• Artistry/Craftsmanship: Starbucks has high standards and quality is at the forefront of all they do. From ergonomists to baristas, there is a depth of skill and creativity at every stage of their product's journey to the customer.