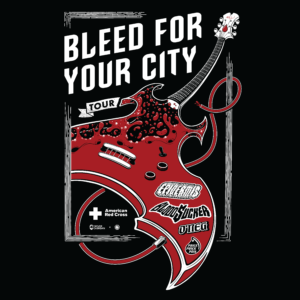 BLEED FOR YOUR CITY TOUR KIT
It's not often you get to work on a project that meets a cause you're passionate about AND are given freedom on creative direction. Well, this is one of those moments.
@nbosetek and I recently teamed up with the @americanredcross to give their blood drive swag a whole new vibe.
We went for a punk-inspired, rock and roll, we-miss-the-music-scene aesthetic and made up an entire fictional tour. We, and the Red Cross, proudly present the "Bleed For Your City Tour"!
Sign up to donate blood in North Carolina and you'll get one of these gnarly, limited run, shirts. Their first appearance will be an upcoming drive on 7/21/2021—keep a watch on the @enc_redcross account for more details.
No music tour worth their salt stops there, though, so we made gig posters and sticker packs, too! Needle In Vein had to cancel their appearance, but they already shipped the merch. So while they got kicked from the show bill, you can still have their sticker.
If you can't make it out to donate (or just want some extra swag), you can order this tour kit! These are a limited, numbered run of 50, so pre-order today. 20% of proceeds will be donated directly to the Red Cross—head to store.taylorcashdan.com or see the store link in my bio.
We've got more in the works and this is just the beginning. As AC/DC said, "if you want blood, you've got it."
———
ACKNOWLEDGEMENTS
Special thanks to Adam at @pourhouserecordshop for the connection.
Thanks to these fine folks to making assets that made our lives a helluvalot easier:
@hoodzpahdesign, @jasoncarne, and @retrosupply.
The shirts are being pumped out by the fantastic @humblymadebrand and the merch kits by the wonderful folks at @laserimage_nc.