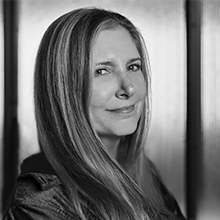 Brooke Foley
CEO/Agent of Intrigue
Jayne Agency, LLC
Brooke Foley is a strategic powerhouse with an unending passion
for giving back — as a marketer, an advisor and as a compassionate
individual.
As Jayne Agency's owner, CEO and chief strategic instigator,
Brooke has taken the discipline of user-centered design, combined
with the ethics of diversity, equity and inclusion, to a whole new
level.
Jayne's client roster includes Fortune 100s such as PepsiCo,
Nationwide, American Red Cross, Vistra Energy, as well as small to
mid-market companies like Trans International (WBE),
MicroAutomation (MBE) and VOZ Advisors (MBE/WBE).
Brooke sits on several boards, including Magdalene House Chicago
and UCAN Chicago. She is 2020 Enterprising Woman of the Year
Winner, an active contributor to WE USA Magazine, an instructor at
Minneapolis College of Art and Design Entrepreneurial Studies
program and is in constant demand as a speaker on topics of
branding, diversity and supply chain. She holds a BFA in Graphic
Design and is a graduate of the Tuck Women's Executive Program
and the Yale Brisaago Program. She's also collected quite a few
acronyms, including certifications and memberships in WBENC,
BEP/CMS, WOSBA, Cook County DBE, DA4S, WIM and NAWBO.
11/11/2020 3:15 – 4:15 PM