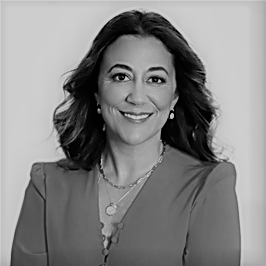 Cate Luzio
Founder and CEO
Luminary
Cate Luzio is the Founder and CEO of Luminary, a global membership-based career and personal growth platform and collaboration hub created to uplift and upskill women through all phases of their professional journey. Members are comprised of a multigenerational and intersectional community of individuals, intrapreneurs, entrepreneurs, corporations, and organizations including UBS, WW, JPMorgan Chase, Unilever, Verizon, Goldman Sachs, Mastercard, Spotify, Blackstone, Charter, ViacomCBS, Indeed and more.
Before starting Luminary, Cate spent twenty years in financial services leading global multibillion-dollar businesses. Previously, she was Global Head of Multinational Corporate Banking for HSBC, managing more than 2,000 employees worldwide and prior to that, she served as Head of Multinational Corporate Banking at J.P. Morgan EMEA based in London. She spent her early years in Latin America with Bank of America across both consumer and wholesale banking. She started her career working in tech in China.
Cate is a graduate of the University of Maryland, and in 2020 was named its Entrepreneur of the Year. She has a master's degree in International Relations from Georgetown University.
A long-time advocate for empowering women and girls, she serves on the National Board for Girls Inc., as a WE.NYC mentor, and sits on the Boards of Pomp & Whimsy, WaterAid, and the Board of Governors for the University of Maryland.
Cate was recognized as one of Forbes' Next 1000 Entrepreneurs in 2021 and a Top 100 Female Founder by Inc. in 2019. She has been featured as an expert in top-tier financial, business and lifestyle media and is currently a contributing writer to Fast Company, Business Insider, and Worth.
10/21/2021 1:30 – 2:15 PM