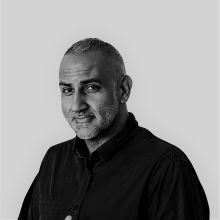 Gush Mundae
Founder
Bulletproof
Gush Mundae is founder of Bulletproof a brand design agency with studios in London, New York, Singapore, Amsterdam and Sydney.
Leaving India at age 5, Gush moved to London with his family, where he grew up on a diet of Hip Hop, PK Rippers, Tacchini and Krylon, his love of street art leading him to study Graphic Design and Typography at the behest of an art teacher.
After graduating in a recession, and getting some agency work under his belt, he felt the need to create a new agency, with creativity at its heart and an entrepreneurial, fearless spirit. No business plan, no risk strategy, no boundaries – just the desire to create the best work on the planet for clients large and small. Gush convinced art college mate Jonny Stewart to join him and so Bulletproof was born in a storm – it's name a reference to the crit wall – where only the most impenetrable ideas wouldn't be shot down.
With Global clients including Bayer, Diageo, Heineken, Mondelez and P&G, Gush's remit now is agency growth – leading Bulletproof through all eventualities towards it's future. Hands on and immersed deeply, the agency he created in 1998 with just one desk, one telephone and one fax machine has changed, but his vision for Bulletproof remains untouched – and he still stops to admire the art which adorns the streets where Bulletproof calls home.
11/10/2020 4:15 – 4:45 PM