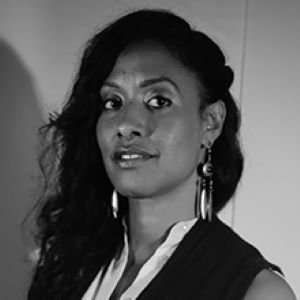 Jahan Mantin
Co-Founder
Project Inkblot
Why you can't miss Jahan Mantin speak:
Spanning over 15 years experience in strategy, sales, facilitation and writing/editing, Jahan began a career in publishing as an Account Manager for Time Out New York before moving on to the editorial side as the Associate Editor for Beyond Race magazine. Prior to Project Inkblot, Jahan co-founded an arts and social impact online publication managing a team of 15 contributors where she produced, edited and/or wrote over 100 articles/multimedia content interviewing social entrepreneurs with a global impact including Boushra Almutawakel, the first woman Yemeni photographer, and author and food activist, Bryant Terry.
Jahan is also the co-creator/executive producer of Fit the Description, a video interview series between Black male civilians and Black male officers sharing their personal experiences with, and within, law enforcement. Using strategy, empathy and design principles, Jahan co-designed and co-facilitated an accompanying interactive workshop to engage audiences in conversations around identity, leading events at spaces from Neuehouse to Fordham University.
Jahan earned a B.A. in Communications and Culture from Clark University and is the recipient of the Kate Spade and Company Fellowship at the New Museum Incubator, NEW INC. An avid traveler, Jahan has lived in far-reaching locales from Colombia to Scotland. She is a proud native New Yorker and currently resides in Brooklyn.
5/23/2022 4:15 – 5:00 PM