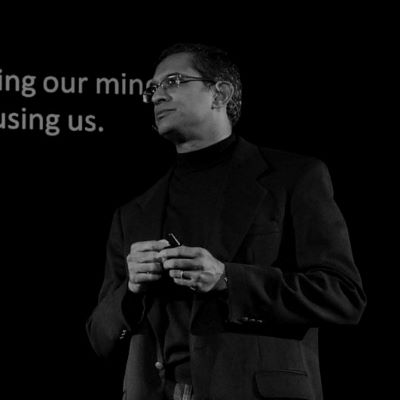 Krishna Pendyala
Founder & Chief Empowerment Officer
ChoiceLadder Institute
Why you can't miss Krishna Pendyala speak:
Krishna Pendyala is an author, speaker, and advisor who helps executives, entrepreneurs, and their teams navigate and make better choices. For over three decades, he has inspired individuals and teams at Boeing, Carnegie Mellon, the Pittsburgh Steelers, UNESCO and UBS, and many small businesses, using his simple, yet practical, framework distilled from his varied career experiences. His thought leadership is built on a long career of executive leadership, entrepreneurship, research, and product invention and development.
Krishna's transformational approach to personal and professional development has been featured on TEDx, Wall Street Journal, New York Times, Huffington Post, Pittsburgh Post-Gazette, and Inc. magazine among others. He is the author of the critically acclaimed book Beyond the PIG and APE: Realizing Success and true Happiness. In October 2014, he received the Distinguished Alumni Award from Indiana State University for his contributions to the world of business, his community and his country.
5/22/2022 10:45 AM – 12:00 PM