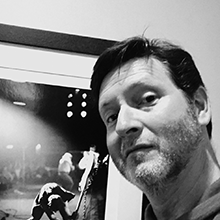 Marc Reiter
Chief Creative Guy
Blackened Recordings
Marc Reiter has worked closely with Metallica for over a quarter century, the three years at the band's Bay Area headquarters as their "Chief Creative Guy", as well as overseeing their record label, Blackened Recordings (Billboard Magazine's 2017 #1 Independent Albums Label of the Year). In this capacity, Marc works closely with the band planning and executing all of their music, video and film releases, as well as overseeing many of the band's new business ventures.
Prior to signing on to work directly with Metallica, he spent nearly twenty-four years at
Q Prime Inc., one of the industry's leading artist management companies, and Metallica's managers since 1984.
Marc was raised in Albany, New York, and spent his formative years skateboarding and listening to the radio and records incessantly. In 1984, he was hired on as the Albany College Marketing Representative for CBS Records (later Sony Music), and he remained with the company for nearly nine years, rising to the position of Senior Director of Marketing at their Epic Records label in NY. At Epic, Marc worked with such artists as Pearl Jam, Suicidal Tendencies, and Spin Doctors, among others, until the fall of 1992, when he left to accept a position at Q Prime Inc.
In terms of charitable work, Marc has been on the National Board of Directors of the TJ Martell Foundation for Cancer Research since 2003. He is also a member of the Board of Advisors of the Tony Hawk Foundation, and is a founding board member of The Metallica All Within My Hands Foundation.
Marc lives in the Bay Area with his wife of 28 years, Abigail Moore-Reiter; that is, when he's not living in airplanes on his way to see the band performing live somewhere or visiting his two daughters, Sophie and Olivia, who are quickly developing nomadic lifestyles all their own!
11/12/2020 11:00 – 11:30 AM