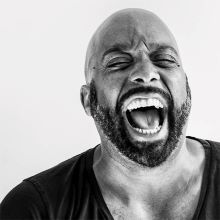 Scott Morrison
Founder and Bringer of the Boom!, co-founder of Loops
the Boom!
Scott has a unique set of experiences working in, on or on the Board of some of the world's most recognised brands including Saatchi and Saatchi, Wieden and Kennedy, Nike, Levi's, Xbox, Activision and Diesel.
He is the founder of the Boom! and works with Global brands and C-Suite leaders to Unblock, Unlock and Unleash commercial, creative or cultural impact that transforms business and individuals.
He is the author of the Amazon Best seller 'Creative Superpowers' a Director at the British Fashion Council and has been voted one of the UKs most influential Black people 3 times.
11/10/2020 10:15 – 10:45 AM